A Major Shipping Change Is Coming, and So Are Higher Fuel Prices
본문
By Firat Kayakiran, Jack Wittels, and Rachel Graham
‎2019‎년 ‎12월‎ ‎19‎일‎ ‎오전‎ ‎10‎:‎00

A defining moment in the history of the oil-refining and shipping industries is at hand.
In fewer than two weeks, thousands of ships the world over will be forced to use fuel containing less sulfur in order to comply with global rules set out by the International Maritime Organization. Those who don't could face penalties and even imprisonment. Ports are deploying drones to -- literally -- sniff out wrongdoers. The regulations are having a profound effect on oil refineries and the cost of seaborne trade looks set to rise.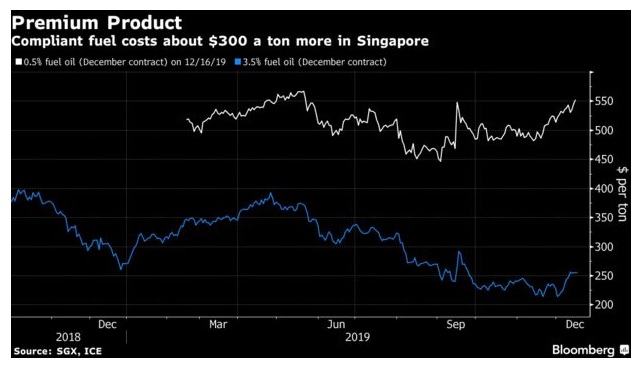 What's the big deal? For decades, shipping has been the oil market's dumping ground for a pollutant blamed on aggravating human health conditions including asthma and causing acid rain. That's because refineries have struggled to eradicate it when turning crude into fuels. Even so, when the regulations were mandated back in October 2016, they came as a shock to many observers who had expected a later start date. While a panic about getting ready has subsided, there's clearly still work to do -- as a slump in the price of non-compliant fuel demonstrates.
"IMO 2020 is the most fundamental and dramatic product specification change the oil industry has experienced, with an impact on both shipping and refining," said Torbjorn Tornqvist, the chief executive officer of Gunvor Group, one of the world's largest oil and gas traders. "It has the potential to change every product and crude differential out there."
Please check the original articles, as below link.